I love to link up!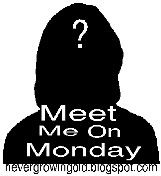 Questions:
1. What do your normally eat for breakfast?
2. What kind of vehicle do you drive?
3. Have you ever met a famous person(s)?
4. What is your favorite ice cream flavor?
5. Which TV Channel do you watch the most?
1. Normally I eat nothing at all...but if I do manage to squeeze something in, it would be a strawberry pop tart :)
2. I drive a CRV. It is the best SUV I have had! It runs like a car, drives like a car, and then gas to fill it up is cheap compared to other SUV's. It can fit three kids in the back seat and then has even more space in the back! It's perfect for camping or any trip really.
3. No I have never met anyone famous. I would love to though!
4. My favorite ice cream would have to be.......turtle! I worked at a ice cream store for three years and I loved making and eating the turtle ice cream. Anything with chocolate and caramel is right up my alley!
5. Well during the day I mostly just have cartoons on, but when the hubby gets home its TBS :) I love King of Queens and Everybody Loves Raymond.